The face of BBB has already had a revolutionary start to his career thanks to his Dad. Coming in with the most hype since Lebron James, all the attention is on him. While his Dad may get a bad rap for his mouth, Lonzo himself has received nothing but praise from teammates and competitors. His game and sneakers are the only things that remain a question of how far can his career and brand go. I'm not here to break down the sneakers though on this post.
Lonzo Ball is a generational talent. Period. We haven't seen a guy with his passing gift since Jason Kidd and I think the most underrated part about him is his physical talent. At 6'6 with a 6'9 wingspan, he will be the biggest pure PG in the league. With the ability to consistently run his offense to get his teammates touches while being both a mismatch for smaller guards and being able to guard multiple guys on the other end without giving up size. Versatility is so important in today's game and his physical talent is built for that.
His scoring is a project right now but it isn't because he struggles to get good looks. They just don't fall. He gets the open looks and can get to the basket because teams worry more about his passing ability. Don't worry though. Scoring is one of those traits that isn't hard to develop in the NBA. Most rookies go through it. Russell Westbrook, Isaiah Thomas, James Harden, Kemba Walker, etc. all weren't lighting the league up scoring wise when they first came in the league averaging 15 or fewer. Lonzo's scoring troubles early on are not a big issue. He's shown he can score in college, he'll develop the ability to do it in the NBA.
The fact that he has the IQ to consistently make simple plays is special. Most veteran PGs don't and probably never will have that skill. Lonzo makes the game looks easy and lets it come to him in a way I haven't seen before. To the point where some people don't even think he has a huge impact on the game. Whether it's executing a pick and roll, giving a teammate the right pass coming off a screen, or moving the ball up court quickly on the break, making these simple plays give his teammates confidence and keeps everyone involved. In the game against the Wizards, 8 different Lakers had 7 or more shots. This uncanny ability to make everyone a threat is special and makes the game easier for him when it comes to scoring because you can't focus on him 1 on 1.
His ability to crash the board as a guard is elite as well averaging 7.5 a game through his first 6 starts. You can contribute that to his length and size that should only get better as he gets stronger.
From all accounts, he's a great teammate. Bryce Alford said had this to say to Bill Oram: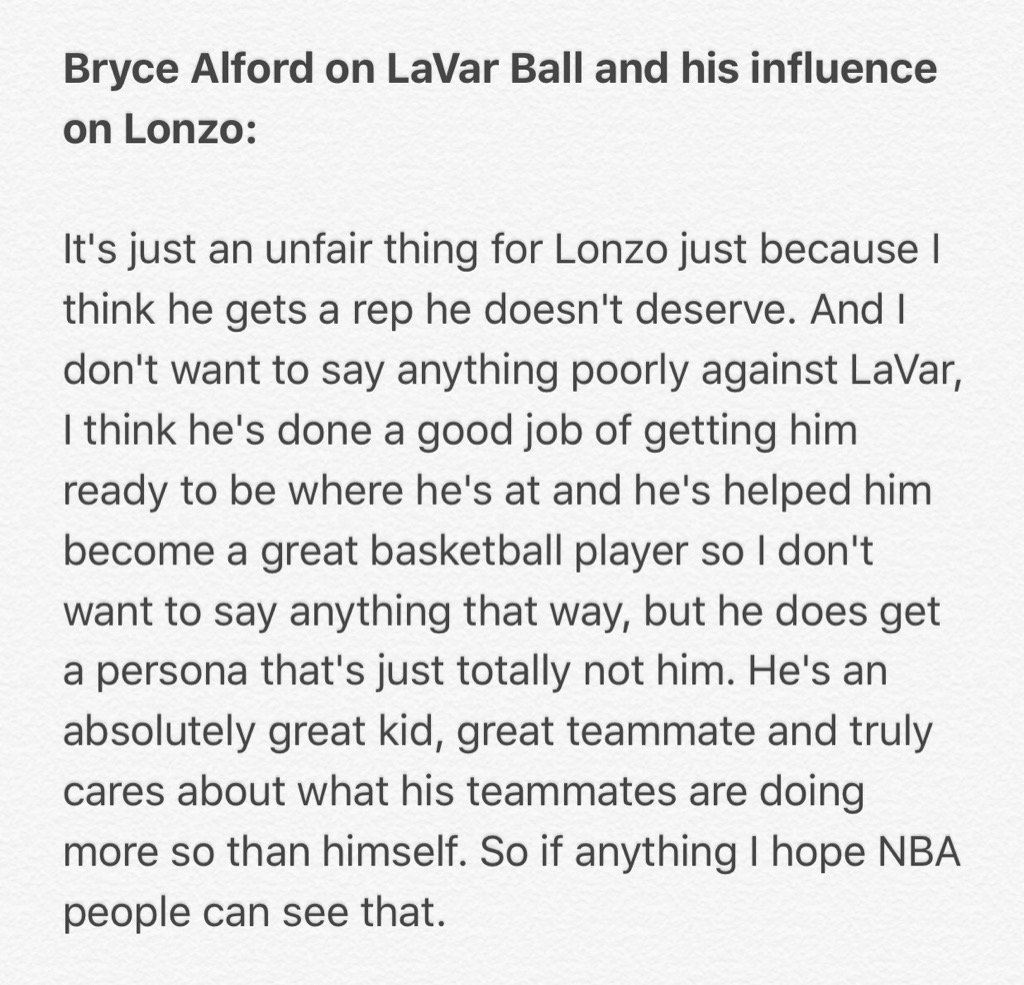 Then this from Julius Randle via Bill Oram again.
"Everybody's following his every move," Randle said. "But honestly Zo is just Zo. Zo is relaxed, he's chill. He doesn't even say too much. He's just one of the guys. For as much as he has going on around him, you would never know."
With his personality, game, and the big market the Lakers play in, it shouldn't be hard to attract talent to come to play to win in Laker land. With his brand, his game, and his personality he can a future face of the league. Lavar should make the story very entertaining to watch. Just win baby win as Al Davis would say!